LA Council Moves to Shut Down Valley Gas Generating Facility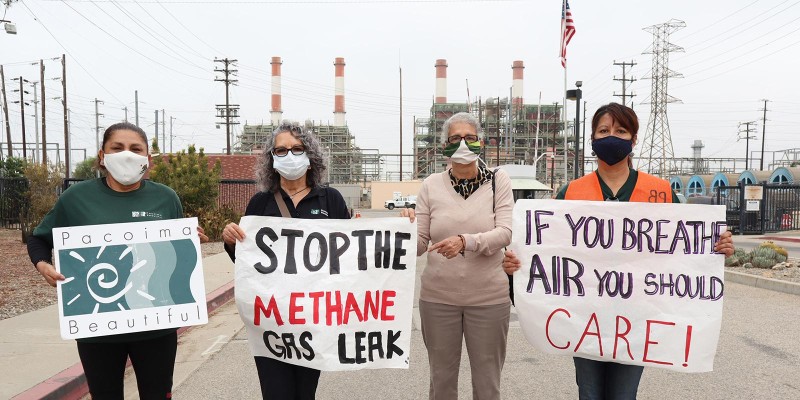 The shutting down of the Valley Generating Station owned and operated by the Los Angeles Department of Water and Power (LADWP) in Sun Valley took a big step forward after the LA City Council approved Council President Nury Martinez's motion calling for said action, and to determine a timeline for when it would occur.
The council's action, taken during its Nov. 24 meeting, came after a similar motion was made by the council's Energy, Climate Change & Environmental Justice Committee, which Martinez chairs.
The water department indicated in a statement that it does not plan to fight the decision.
Ellen Cheng, LADWP media relations manager, said via email that the utility would be transitioning to "100 percent clean energy by 2045," and developing a 10-year plan to dramatically reduce emissions by 2030.
"All the planning studies we're doing as part of our transition will be critical for determining the feasibility of shutting down the Valley Generating Station, while maintaining a reliable, resilient and cost effective electric service for customers," Cheng said.
In August this year, the staff at the Jet Propulsion Laboratory (JPL) informed the Los Angeles Department of Water and Power (LADWP) of a methane gas leak at the generating station. The leak was seen during JPL overflights on July 16 and Aug. 7, between the hours of 1 p.m. and 2 p.m.
In late August, LADWP officials reported to its Board of Commissioners that there were ongoing leaks at the station. That information was not previously shared with the local community or area representatives, which angered the council and advocacy organizations like Pacoima Beautiful and Food & Water Action, as well as Northeast San Fernando Valley residents.
Although the utility made repairs to plug the leaks, critics including Martinez insisted the facility "still poses a threat" to the health of residents in an area that is already one of the most environmentally impacted in the state.
In September, Martinez — along with council members Paul Krekorian and Monica Rodriguez — introduced legislation seeking, among other directives, immediate relief and the creation of a trust fund to benefit residents impacted by harmful emissions, and directed City Attorney Mike Feuer to present an ordinance to create an Amenities Trust Fund for residents that live within a three-mile radius of the facility.
The Nov. 24 action by the council demands a more definitive response. 
"I thank my council colleagues for joining me in this effort to protect Sun Valley and the Northeast Valley communities that for decades have had their environmental justice concerns minimized or ignored while solutions are offered in more affluent coastline communities," Martinez said.
"Today's vote puts Sun Valley first and is an environmental justice victory for the entire Northeast San Fernando Valley. The Sun Valley Generating Station needs to close before any others are even considered with a timeline on when that should happen."
The council's action was hailed by Veronica Padilla, executive director of Pacoima Beautiful.
"(The decision) to shut down gas operations at the Valley Generating Station is the culmination of years of struggle for the Northeast San Fernando Valley community," Padilla said. "For decades, we have carried the health burden of burning fossil fuels for the good of the City. We can finally look forward to the end of dealing with the impacts of emissions from this gas plant."
But shutting down the station would only be one step. A bigger one, perhaps, is determining what the facility would become.
A specific timeline to start a shutdown — or at least another besides those being suggested by LADWP — was not offered in the council resolution.
Jasmin Vargas a LA senior advisor for Food & Water Action, said she was not surprised.
"I don't know if Nury Martinez has a timeline. And from what I can tell from the resolution itself, it doesn't have a timeline," Vargas said.
But, Vargas said, leaks like the ones at Valley Generating Station and the Aliso Canyon facility, just add to facts that "lead us to the inevitable outcome of getting away from fossil fuels altogether, being that they are not safe for the communities, or for the environment and the climate for that matter. We're trying to ultimately stop fossil fuel emissions and pollution and going to 100% renewable energy because we are going through climate change."
She does have recommendations on developing energy alternatives.
"I've been making the case to go to 100% clean energy by 2030," Vargas said. "I know, and science knows, that we won't be able to make it if we don't take climate change seriously.
"I would love to see them put in solar panels and battery storage (at the facility). There are other projects like shared solar programs, kind of like a 'buy-in' program for renters that can reap the benefits of solar power without putting it on their roofs. But if we want to get off fossil fuels, we have to create clean energy alternatives."
---
Associated Program: Valley Gas Plant Campaign