Investments facilitate community-led climate action
New reports from UCLA show how the Transformative Climate Communities program deepens capacity in communities on the frontlines of the climate crisis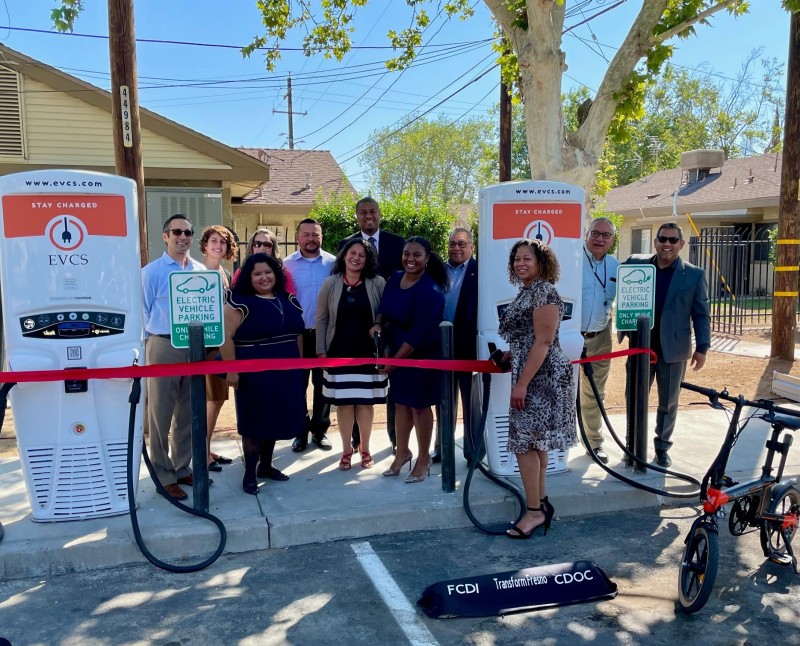 Eufrosina Pacheco, like many other high school students, did not know what she wanted to do after graduating. Then she took a paid position as a local ambassador for Stockton Rising, a community-driven initiative providing healthy food, no-cost energy and water-efficiency installations, workforce development and many other projects to benefit and empower Stockton residents like her.
 
"Before this, nothing clicked for me. But after these trainings, and seeing all these amazing people fight for change, I feel like I could manage a program or even run for city council," Eufrosina said with a smile.
 
Stockton Rising's projects and leadership opportunities are part of the Transformative Climate Communities (TCC) program. And Eufrosina's story is an example of how TCC-funded initiatives are investing in historically disinvested California communities to build long-term capacity to advance their own economic, environmental, and health goals.
 
The UCLA Luskin Center for Innovation has released annual reports on groundbreaking progress in five TCC communities: Fresno, Ontario, Stockton, and the Watts and Northeast San Fernando Valley neighborhoods of Los Angeles. These reports are part of the ongoing evaluation that UCLA is conducting in collaboration with TCC grantees.
 
UCLA researchers documented how TCC-funded partners have furthered existing community partnerships, utilized local knowledge and built capacity by formalizing working groups to address climate change, leveraging millions of dollars in non-TCC funds, and developing plans for community engagement, displacement avoidance, and workforce development.
 
"These TCC efforts are building community capacity in profound ways," explained Elena Hernandez, a researcher with the Luskin Center for Innovation. "Empowering historically underserved communities, including youth residents, to tackle climate change on their own terms is laying the foundation for a new generation of leaders, and by extension, catalyzing long-term change."
 
Examples of residents coming together on TCC initiatives (in alphabetical order) while advancing their leadership and collaboration capacity include:
 
The TCC-funded 

Green Together Collaborative

 

e

mpowers Pacoima and Sun Valley residents of Los Angeles to build a safe, healthy, equitable, and climate-resilient community. Based on a foundation of community engagement, Green Together  strategically leverages existing programming offered through the community-based organization Pacoima Beautiful. This approach empowers resident leaders to have public influence while strengthening their professional relationships and skills. For instance, Green Together's Clean Air Ambassador program allowed Jenifer Fonseca to learn how to collect, analyze, and compare air quality data. She now feels equipped to speak publicly about her community's air pollution challenges and advocate for solutions.




 

 

To amplify the impacts of their TCC grant, the City of Ontario and community partners integrated the pre-existing Healthy Ontario Initiative into 

Ontario Together

's approach to community engagement and sustainable neighborhood transformation. The approach involves paid community health workers, known as resident leaders, who collect community feedback to inform Ontario Together planning and implementation decisions. "I have many goals, and I believe the job I have with the city will help because… it opens new doors to new opportunities," said 

Tavis Díaz, a resident leader.

 


 

Transform Fresno

seeks to catalyze economic and environmental transformation in three underserved neighborhoods in Fresno. The TCC–supported Fresno Career Development Institute leads community outreach for the Clean Shared Mobility Network, which provides low- or no-cost electric vehicle carsharing, bikesharing, and vanpooling. Through the grant, Keshia Thomas, executive director of the Institute, is expanding connections and collaborations. For example, she was recently invited to join the Fresno County Bicycle Coalition's Board of Directors and to travel to Germany to learn more about mobility planning overseas.
Watts Rising

also employs residents as outreach ambassadors, known in Watts as the Street Team. These residents oversee community engagement and as trusted messengers, they connect fellow residents with TCC projects such as no-cost solar and energy efficiency installations. One ambassador, Anai Velazquez, was at first hesitant to present at public forums. But being a Street Team member built her comfort in talking to people. "I've become less afraid," Anai said. "I've found that if I'm kind, they'll be kind back," she added.


 

Stockton Rising

's Climate Leaders program is helping residents, like 

Eufrosina, mentioned above, to become community and climate justice leaders through paid field training and educational programming.


 
"TCC invests in the social and physical infrastructure of communities, supporting residents impacted by legacy pollution and disinvestment to design, implement, and lead projects advancing prosperity, health, and resilience in their neighborhood," said Lynn von Koch-Liebert, executive director of the Strategic Growth Council.
 
Authorized by Assembly Bill 2722 in 2016, TCC is one of the world's most comprehensive investments in local climate action, and has renewed relevance nationally as the federal government advances unprecedented levels of climate investments to benefit disadvantaged communities, under President Biden's Justice40 Initiative.
 
"UCLA's evaluation makes clear that the Transformative Climate Communities program is resulting in equitable community-driven investment across California and can serve as a model for climate equity for state and federal program administrators tasked with implementing Justice40," added Koch-Liebert.
 
The reports highlight that as of June 2022, TCC partners across the five sites have started construction on or built more than 237 affordable housing units, installed 157 solar photovoltaic systems for low-income households, planted 3,885 trees, and more. In addition, the grants funded paid training for 211 community members for new careers, along with supporting hundreds of other training and paid job opportunities. Many of these numbers will increase over time, as all of the grants are in progress and not yet complete.

To learn more about these communities' progress, access the progress reports on our Tracking Groundbreaking Climate Action webpage.
---
Associated Program: Green Together Collaborative