FOR IMMEDIATE RELEASE:
ROY AND PATRICIA DISNEY FAMILY FOUNDATION ANNOUNCES 2022 HAZEL M. JOHNSON ENVIRONMENTAL JUSTICE AWARDS
December 20, 2022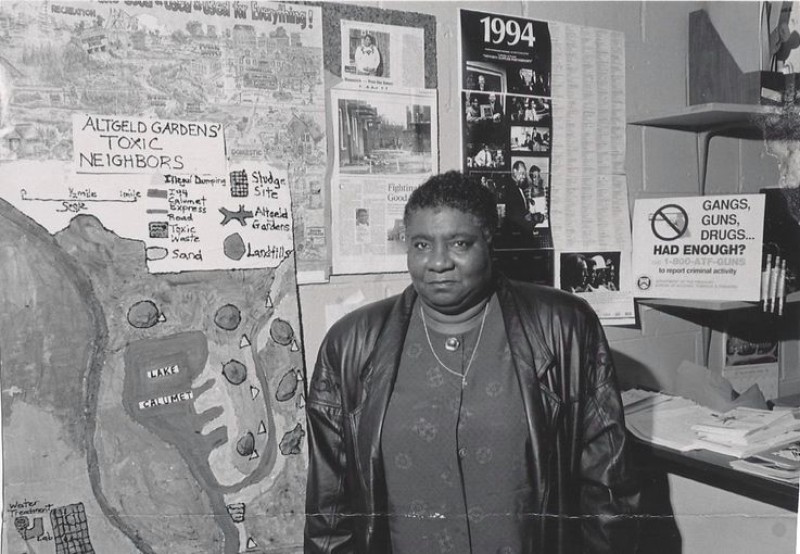 12/15/2022 (Los Angeles, CA) Roy and Patricia Disney Family Foundation (RPDFF) – in partnership with the Environmental Grantmakers Association – is pleased to announce the inaugural recipients of the Hazel M. Johnson Environmental Justice Award. A little over four years ago the Roy and Patricia Disney Family Foundation (RPDFF) revamped its grantmaking priorities to center on social justice. We sought to be better actors in the field of philanthropy. We streamlined our grant making process, offered more transparency to our partners and increased the number of general operating support grants we were making.
After the last few years of political and social uncertainty, racial reckonings, a global pandemic, rising inflation and environmental catastrophes – we found ourselves at a crossroad. We knew the field of philanthropy needed to do more. We knew we needed to do more and we needed to do it better.
We are making a significant change to our environmental justice grantmaking, choosing to support and amplify solutions and projects already developed by frontline communities at the forefront of environmental change and all of its intersectional impacts. We aim to do this with as little systemic barriers as possible.
As the guiding star of this shift in our environmental justice grantmaking, we wished to honor the "mother" of the environmental justice movement: Hazel M. Johnson, the namesake of these awards. A passionate environmental justice advocate from the 1970s until her death in 2011, Hazel M. Johnson fought for clean air and water on the South Side of Chicago, empowering, educating, and organizing her community in Altgeld Gardens and eventually founded the People for Community Recovery. She led national environmental justice movements and organized national protests demanding clean drinking water and the removal of asbestos from apartments.
Hers is a name that deserves to be widely known, respected and attributed for her work – something she would also want for the countless people and communities who continue to stand up, organize, advocate and fight for change against all odds in their communities.
Today, we have awarded seven community-based and BIPOC-led environmental justice organizations with the Hazel M. Johnson Environmental Justice Awards. These grants are a one time, 3 year general operating support grant of $75,000 per year ($225,000 total).
partnership with the Environmental Grantmakers Association – is pleased to announce the inaugural recipients of the Hazel M. Johnson Environmental Justice Award.
What makes them different?
There was no application process, there are no reporting requirements and we plan to offer grantees opportunities to strengthen their capacity building, operations and narrative/storytelling with mutually beneficial learnings with the RPDFF team. We have been listening and learning from our frontline environmental justice partners and we know that what they need from us is commitment to help in the most equitable and impactful ways we can.
Meet Our Recipients:
Rise St. James is a faith-based grassroots organization that is fighting for environmental justice as it works to defeat the proliferation of petrochemical industries in St. James Parish, Louisiana. Nicknamed "Cancer Alley" for the above-average rates of cancer there, the area is home to a high concentration of polluting industries. Despite this, the state has plans to expand this chemical corridor with dozens more factories. Led by Sharon Lavigne, 2021's Goldman Environmental Prize winner, Rise St. James galvanized community opposition and successfully defeated the construction of a $1.25 billion plastics manufacturing plant in 2019. The group is currently fighting to prevent Formosa Plastics from building a massive multibillion-dollar plastics plant in the parish.
Pacoima Beautiful (PB) was founded in 1996 by five relentless mothers who became distraught by the unpleasant sight of trash and toxic smells they endured while walking their young children to school. They knew that the only way to create a safer and cleaner community for their children and neighbors was through collective action, and so like good neighbors they joined forces to bring Pacoima some of its first major community clean-ups and tree planting events. The beautification projects of our founding mothers set the grassroots foundation that our historically women led organization has stood by for the past 25 years.
The People's Collective For Environmental Justice are committed to fighting for environmental justice and challenging the cultural and systemic roots of white supremacy. Their purpose is rooted in historical struggle, to advance collective resistance and power; to support and fight against pollution, exploitation and existential threats to life – ultimately build for the health, wellbeing and self-reliance of the Inland Empire in a way that uproots white supremacy and the reigning hegemonic extractive systems.
Black Women for Wellness is committed to the health and well-being of Black women and girls through health education, empowerment and advocacy. Black Women for Wellness believes in the strength and wisdom of our community and allies. They believe that we all have the solutions, resources and responsibility to create the shifts and change needed to impact our health status. Each of us must develop our personal power, hold accountable and support acknowledged leadership, and most importantly, contribute to our survival and growth as a community.
Líderes Campesinas principal goal is to form a network of communication throughout the state of California to promote the development of a united effort between campesinas and other groups who advocate the rights of the campesina community. Líderes Campesinas attempts to secure the progression of programs that help other campesinas discover their own capacity to be a leader and serve as a vehicle to guide them in the process of discovering their rights as a member of a family, local community, state, nation, and global community.
Mujeres de la Tierra inspires the healing of La Madre Tierra by working to build grassroots community leadership and capacity among historically unrecognized communities, especially with immigrants, and/or communities of color. They firmly believe in the power of one and their engagement efforts are created through a culturally relevant lens. They provide tools of empowerment by using facts, data, and science. They are connected to community through local residents' input, platicas, listening sessions, and other means of interactive communication.
Front and Centered envisions a Just Transition to a future where our communities and the earth are healed and thriving, our people have dignified work, and our government values, respects, and represents us. They are working for sovereignty and self-sufficiency for our communities so that future generations can thrive. They strive to make racial inequities on all issues a thing of the past, and to ensure that people of color and indigenous people are at the forefront of building equitable, democratic systems and policies that work for their communities. They are working for a future where all communities are healthy, safe, and resilient, and where everyone has equitable access to the building blocks of opportunity and prosperity like a healthy environment free from ecological destruction, affordable housing, and good careers based on safe work with livable wages.
We are deeply proud of our recipients and their work and look forward to sharing their impact and work with you this year.
We are also extremely excited by the evolution of our environmental justice work and hope this change in approach will be meaningful and modeled behavior for our colleagues in the field of philanthropy. Frontline communities and organizations led by People of Color cannot continue to be ignored and under-resourced by philanthropy.
About the Roy and Patricia Disney Family Foundation.
Roy And Patricia Family Foundation
Contact: info@rpdff.org