Pacoima Beautiful rolls out first electric bike share program in the San Fernando Valley
Electro-Bici will serve as a model for bridging electric mobility and economic development for communities like Pacoima and the surrounding neighborhoods in the Northeast San Fernando Valley.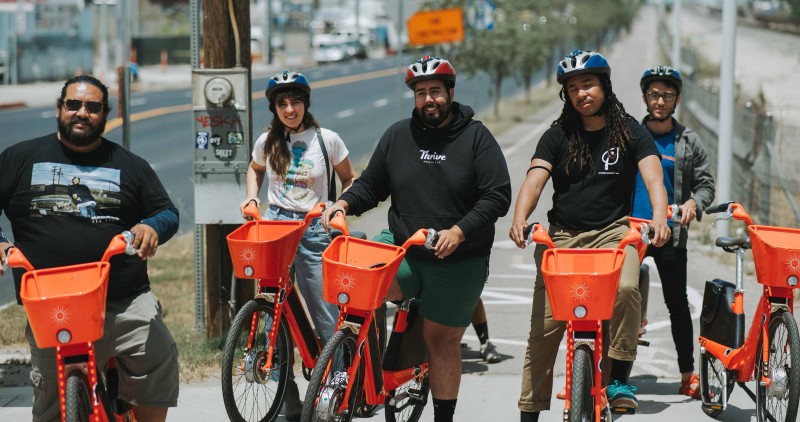 Los Angeles, CA – Pacoima Beautiful, the leading San Fernando Valley environmental justice organization, celebrates the launch of the first electric bike share program to benefit the community of Pacoima and surrounding neighborhoods.
Electro-Bici is a partnership between Pacoima Beautiful, People for Mobility Justice, Shared Mobility Inc., Equiticity, Mobility Development and made possible by the Los Angeles Department of Water and Power. Electro-Bici will roll out a fleet of 100 electric bikes over a three-year period engaging cohorts of riders comprised of neighborhood residents.
During the pilot program, participants will get to learn about bike safety and mobility justice and their connection to improving the environment. Electro-Bici is a critical step in reducing barriers to access alternative green transportation while working to make our community more connected, safe, and sustainable.
An alternative green transportation need in the community was seen during the outpour of applications submitted for the pilot program. Pacoima Beautiful Policy Director Annakaren Ramirez says, "Electro-Bici is a critical component in Pacoima Beautiful's mission to achieve an equitable, inclusive, and climate-resilient future for the Northeast San Fernando Valley. Electro-Bici joins our various programs that reduce local greenhouse gas emissions, improve public health, and make our streets safer for pedestrians and cyclists." Pacoima Beautiful and partners are excited to make electric bikes accessible to residents interested in using an electric bike.
As the city of Los Angeles moves towards carbon free electricity and transportation by 2035, it is necessary that communities like Pacoima, communities heavily impacted by pollution, are at the forefront of inventive projects like Electro-Bici since frontline communities are often last to reap the benefits of the changing infrastructures. "People for Mobility Justice is honored to help develop the first E-Bike library in Los Angeles with Electro-Bici. We believe that the Electro-Bici fleet will serve as an important economic resource for the community of Pacoima. Electro-Bici serves as an example of the type of innovative approaches needed to connect environmental justice communities to clean energy technology." states, People for Mobility Justice Executive Director Andres Ramirez.
To facilitate the city's transition to a clean energy future, the Los Angeles Department of Water and Power is prioritizing local environmental justice projects that help reduce emissions in the Harbor and East San Fernando Valley communities hardest hit by pollution sources, such as refineries and truck traffic. "Achieving a 100 percent clean energy future takes partnering at the community level with outstanding community based organizations like Pacoima Beautiful," said Martin Adams, General Manager and Chief Engineer for the Los Angeles Department of Water and Power. "We are proud to have awarded a $500,000 grant through our Community Emission Reduction Grant program to provide households that don't have easy access to other forms of transportation with free, long-term e-bike rentals."
Follow the progress of the program or find out more information about Electro-Bici here.
---
Associated Program: Electro-Bici