The Problem with Whiteman Airport 
For over 75 years the Whiteman Airport has put the health, safety, and wellbeing of the Northeast San Fernando Valley community at risk. Every day that the airport isn't shut down, hard-working community members that wake up early to go to work or take their children to school are exposed to the noise pollution, air pollution, and the threat of another plane crashing in their community.
Whiteman air traffic puts communities adjacent and downwind of its flight path:
at risk of aircrafts crashing on their home, business or highway
Contributes nothing to the local economy
Unnecessarily pollutes the air with emission from lead based fuel use in planes
And diminishes the quality of life for residents adjacent to the airport.
Los Angeles County is the owner of Whiteman Airport and has the power to decide the airport's fate.
Since it was founded in 1946, the airport has been contributing to the environmental injustices continuing to disproportionately affect residents from Pacoima and surrounding communities. The airport operates airplanes that expose people to emissions from the lead-based fuel that they use. There is on average more than one accident every year, and since the airport started its operations, there have been over 85 accidents in the last 70 years.  
A Community Informed Solution
Pacoima beautiful follows in the footsteps of Pacoima residents that have been trying to shut down operations at the airport for decades. Pacoima and the rest of the Northeast San Fernando Valley deserves the right to a clean, safe, and healthy environment and that is why we are leading this effort to  join community members and allies together in a campaign to call for the shutdown of Whiteman airport.  
We understand that it might be a long process to accomplish this endeavor, and we are here for the long haul.
Our Demands
In the interim, we are demanding that immediate action be taken by the Los Angeles County Board of Supervisors, and the Department of Public Works, Aviation Division to mitigate the impact of air traffic noise by:
Providing noise cancelling windows to residents living within a 3 mile radius from the airport
Establishing a curfew for air traffic
Prioritize the public safety of Pacoima residents
Drafting a clear pathway towards the shutdown of the airport, centering community input during the drafting of the pathway to closure.
The story map below dives into the history of the community that was there before whiteman airport arrived and the long standing contentious relationship the airport has with the community of Pacoima.
A History of Harm – The Origins of Whiteman Airport
Research conducted by UCLA Luskin Center Environmental Justice Fellows, Sachi Cooper and Sarah Perez
View this StoryMap fullscreen here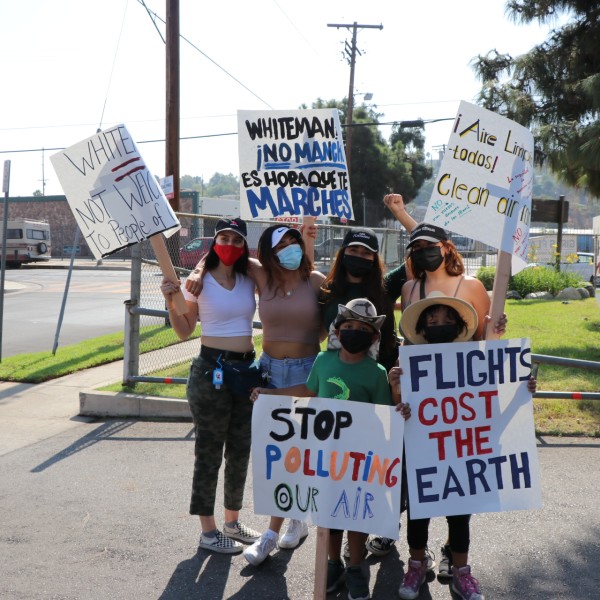 Join The Coalition
Join the fight for a safe, sustainable, green and healthy San Fernando Valley. The rate of airplane crashes in our community is alarming. Since 2020, there has been three airplane crashes in our community. Two of which have been fatal. The fatal airplane crashes are among the reasons why we are calling for the immediate shutdown of Whiteman Airport and are demanding that a thorough Environmental and Health Impact Assessment  and Public Safety audit be conducted to better understand why planes departing and arriving at Whiteman Airport continue to crash into communities in the Northeast San Fernando Valley