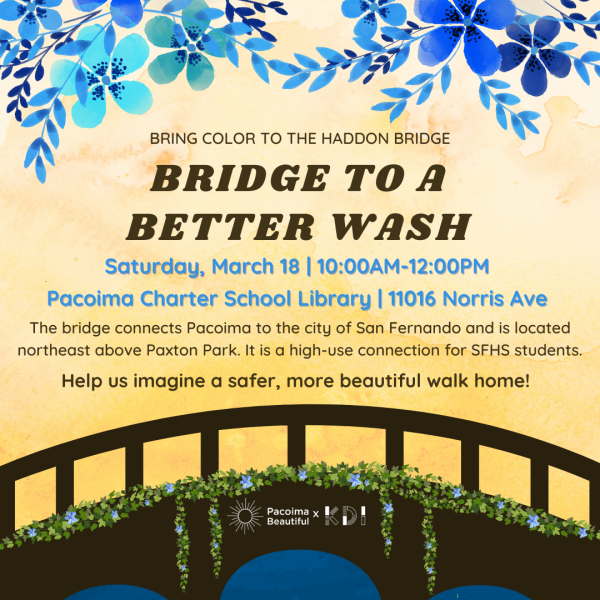 Bridge to a Better Wash Design Meeting
When:
-
Where:
Pacoima Charter School Library|11016 Norris Ave|Pacoima, CA 91331
---
Pacoima Beautiful and KDI invite you to bring color to the Haddon bridge! Join us on Saturday, March 18th from 10:00AM-12:00PM for a design meeting. The bridge connects Pacoima and the city of San Fernando and is a high-use connection for SFHS students. Help us imagine a safer, more beautiful walk home.  
¡Pacoima Beautiful y KDI te invitan a traer color a el Puente de Haddon! Únete a nosotros en una reunión de diseño, Sábado el 18 de Marzo a las 10:00AM-12:00PM. El puente conecta Pacoima y la Ciudad de San Fernando y es utilizado por estudiantes cada dia. ¡Ayúdanos a imaginar una caminata a casa más segura y bella!
Register today!/ ¡Regístrese hoy!
---
Associated Program: Pacoima Wash