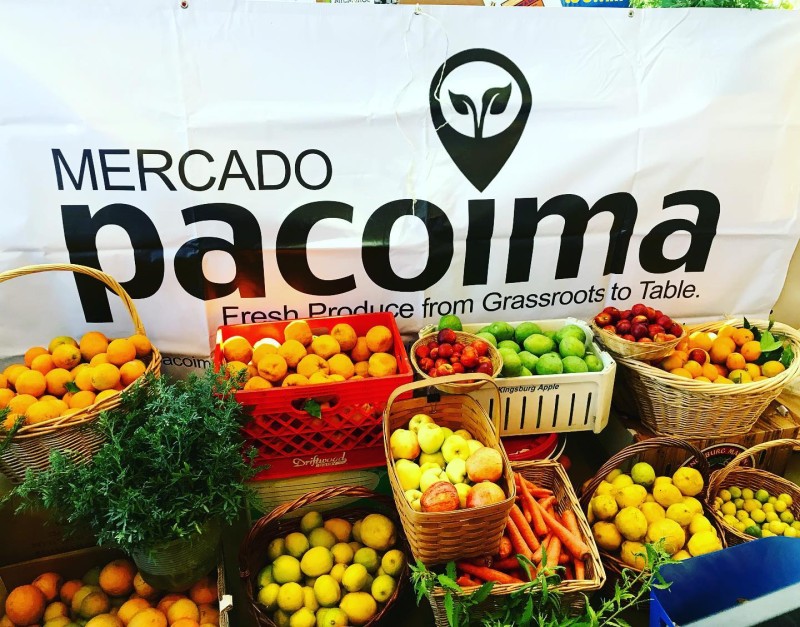 In an area where over a quarter of low-income families struggle with food insecurity, Mercado Pacoima brings fresh produce from neighborhood yards to the community market to share with locals. Forced to shut down during the pandemic, this free food program will soon be back in action, largely thanks to an investment from Blue Shield of California.
Nonprofit organization Pacoima Beautiful is one of six nonprofit organizations recently selected to receive an environmental justice investment from Blue Shield.
Founded nearly two decades ago by a small group of mothers who wanted their children to grow up in a safer community, Pacoima Beautiful still embraces this grassroots spirit today as the only environmental justice organization in the Northeast San Fernando Valley. Community-centered and community-driven, Pacoima Beautiful strives to build a safer, healthier environment through action and community-led advocacy.
Blue Shield's recent investment will provide administrative support for the nonprofit's policy team, with their environmental justice advocacy efforts working to improve quality of life for the community's residents. It will also enable the relaunch of one of their most impactful programs, Mercado Pacoima, said executive director Veronica Padilla-Campos.
The original idea for Mercado Pacoima, roughly eight years ago, was born after a survey revealed that over half of the households in the area grew some type of produce, and many had an excess of produce which often went to waste. For the team at Pacoima Beautiful, that's when the lightbulb went on. They organized teams of youth and adult volunteers to visit homes and collect surplus produce, significantly reducing food waste in the region. Then, once a month, they hosted Mercado Pacoima — an open-air market where community members could take fruits, vegetables, herbs and spices for free. The program was a smashing success, said Padilla-Campos. "People would line up an hour before," she shared. 
The popularity of the event spoke volumes. Pacoima Beautiful provided seniors, families and vulnerable members of the community with fresh, nutritious food that was greatly needed. Mercado Pacoima quickly became a cherished event that the community not only depended on but looked forward to. The market helped to reduce food waste and fought food insecurity, but also began building something less tangible and equally meaningful for those who visited — connection.
Each month, Padilla-Campos witnessed the joyful faces and friendships that bloomed. She also noted the fulfillment and purpose felt by the volunteers, who took pride in being able to offer this amazing resource to their community. "It's a labor of love," she said, of the careful work and planning done by volunteers to maintain the program. 
After five years of feeding families and building community, the COVID-19 pandemic forced the closure of the market in 2020. Since then, there's been no end to the inquiries asking when Mercado Pacoima would return. "Despite the demand, we simply didn't have the resources to bring it back," said Padilla-Campos. Now, Mercado Pacoima will finally make its return — along with the connection and community it fosters.
Antoinette Mayer, vice president of Corporate Citizenship for Blue Shield, shared why this initiative is so important to us. "Climate change is an urgent public health crisis and marginalized communities are disproportionately impacted," said Mayer. "Supporting organizations like Pacoima Beautiful that are reducing food waste and emissions while empowering neighbors to become climate and community advocates is all part of our mission at Blue Shield to create a sustainable healthcare system that ensures health equity and affordability for every Californian."
The six nonprofit beneficiaries supported by Blue Shield of California's 2023 environmental justice investments included: Casa Familiar, Communities for a Better Environment, Climate Action Campaign (CAC), Pacoima Beautiful, SanDiego 350, and San Diego Food System Alliance. This year's environmental justice investments specifically focused on addressing climate impacts on marginalized communities and supporting community-led urban greening.
To learn more about Blue Shield of California's Corporate Citizenship efforts and commitment to environmental sustainability, visit citizenship.blueshieldca.com
---
Associated Program: Mercado Pacoima